Leaked: New ATT text messaging plans in preparation for Verizon iPhone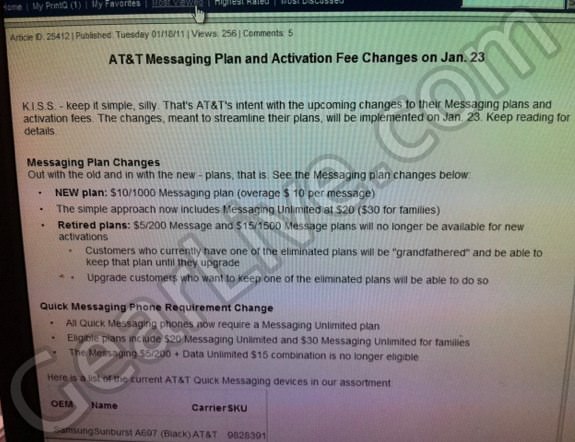 AT&T customers, get ready for new text messaging rates to go into effect starting next week. As the Verizon iPhone approaches, the company is looking to make their plans look a bit more attractive, and not so different from what Verizon will be offering. Above is an image leaked out of Best Buy showing that AT&T will have two text messaging plans going forward. The first is a new $10 per month for 1000 text messages (with each additional costing $.10,) while the second is the $20 unlimited text plan ($30 for family plans.) Going away are the $5/200 message and $15/1500 message plans. If you're a current customer on one of those plans, you are grandfathered in and can hold onto it, but new customers won't have those choices starting on January 23rd. Also on that day, AT&T will be raising activation fees.
We're not sure how much this will do to keep people from jumping ship, but it certainly makes the texting plans a little clearer. Also, be sure to check out how Best Buy plans to convince customers to choose the AT&T iPhone. War is upon us!