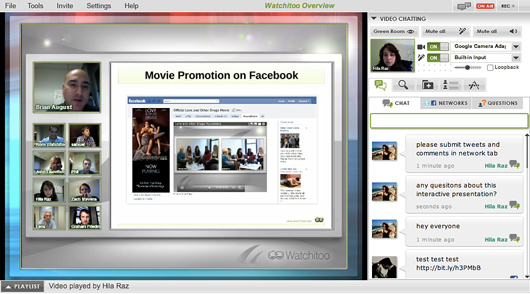 A screenshot from Watchitoo, an inventive and powerful new addition to the Web conferencing field.
Here are our top choices for live streaming tools, webinars & employee collaboration online
Target audience
: Businesses, brands, educators, nonprofits, community organizations, Web publishers, individuals.
The following guide, originally created by TechSoup Global, has been significantly updated and expanded by J.D. Lasica and Kim Bale.
M
ore and more businesses and entrepreneurs are turning to Web conferencing services to communicate with fellow staff members, customers, supporters and prospects.
While your business likely uses email or conference calls for much of your long-distance communication, sometimes a full-blown virtual meeting is the only way to hammer out the details of an important initiative. Web conferencing lets anyone with an Internet connection and a Web browser meet and collaborate online in real time.
Some conferencing tools require participants to install a piece of software on their own computers before they can participate; other tools are entirely Web-based. All require an Internet connection. The tools differ in the features they provide for collaboration and communication. For instance, some let participants speak to one another through their computers' microphones while others let everyone interact via video. Still others have an option to join the audio part of the conference by a separate audio/telephone bridge.
To help you choose a service that suits your business, we've pointed out features commonly found in Web conferencing products and explained other considerations you should be aware of. Our list leaves out tools like
Skype
and Apple's
iChat
, which offer great video conferencing (video chat) and text chat for a limited number of people but don't offer full-on Web conferencing services that offer a wide range of collaboration capabilities.
When considering all of these great features, it's important to consider how these capabilities will affect your Local Area Network (LAN). For example, many of the products below include videoconferencing. One person using hosted videoconferencing at a location wouldn't add to much to local network issues. Multiple workers videoconferencing at the same time could slow the rest of your network traffic.
Whenever possible, try out the product before purchasing. Use the information below and on product websites to narrow your choices, then try the two or three products that best fit your needs.
Here is our comparison of 14 top Web conferencing services. If you have your own favorites, or have any updates or corrections,
please share them in the comments!
Other Web conferencing software
This is by no means a comprehensive list of web conferencing solutions. Other choices include:
•
GoMeetNow
•
InstantPresenter
•
InterCall
•
MegaMeetings
•
PaltalkExpress
•
SightSpeed
•
Video Seminar Live
• Lots of others in this list of
Web-based conferencing services